Season 3, Post 16: City of abandoned scooters
Take a 50-mile trip to the north west of London and you arrive at Milton Keynes, a British new town, built in 1967 and named after two economists (Milton Friedman and John Maynard Keynes). If you want a vision of what a future city might look like, then this could be it. It's strategically located close to two main motorways, hence the prevalence of multiple big box warehouses on its outskirts; it's built on a grid system to allow for the efficient flow of traffic and grouping of amenities; and it's become a test-bed for trialling new initiatives. Milton Keynes was the first place in the UK to launch delivery robots and it is one of five in England where electric scooters are currently being trialled.
Your intrepid author braved cold weather and visited last week. Despite the easing of lockdown restrictions, Milton Keynes felt eerily quiet and many of the streets both soulless and empty. There was a palpable absence of delivery robots – when I logged into the app, I was told that they were all "busy" – but no shortage of electric scooters. For a town of around 250,000 people, Milton Keynes currently has 900 scooters and over 100 robots. The robots are equipped to roam the pavements autonomously, delivering everything from supermarket provisions to take-away meals. The scooters, of course, can take you anywhere.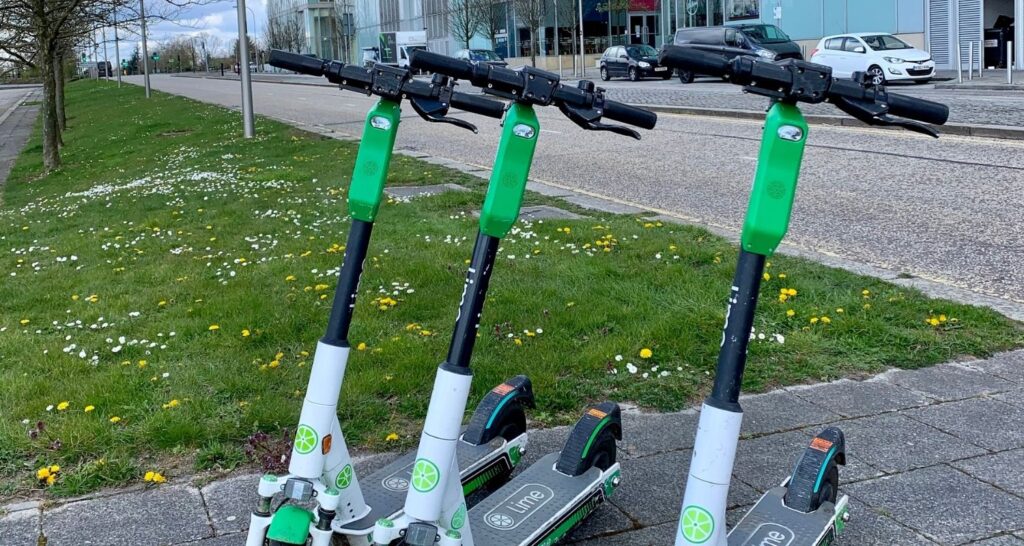 The only problem, as your author witnessed, was that most of the electric scooters he saw around Milton Keynes were not being used, rather they were parked (a generous assessment) or abandoned (a more realistic take) across the city. Admittedly your author did not visit during rush hour – when it might be assumed that usage would be at its highest – but even on a sunny weekday lunchtime, few people seemed to out and about either on errands or for leisure. The service is easy to use: just download the app, verify your age (you have to be over 18) and you're set; no helmet required. The cost – from 25p ($0.35) a minute – is also compelling and once you get the hang of it, riding is apparently very easy.
Maybe the novelty value has worn off – the trial started in August last year. Perhaps more scooters would be used at busier times of the day or when all businesses, shops and restaurants have fully reopened. Another interpretation might be over-capacity. Whether Milton Keynes needs three competing electric scooter companies (Lime, Spin and Ginger) as well a city-wide bike hire scheme and multiple electric vehicle charging points is open to debate. As we discussed in our more detailed recent work on micromobility, we have no doubt that electric scooters and bikes will help disrupt the car by ferrying people to their destinations more cheaply and efficiently than other alternatives. However, this conclusion needs to be nuanced by two other observations, made abundantly clear from my trip: the industry needs to consolidate; and micromobility solutions must exist as a complement to other transport modalities.
22 April 2021
The above does not constitute investment advice and is the sole opinion of the author at the time of publication. Past performance is no guide to future performance and the value of investments and income from them can fall as well as rise.
Alex Gunz, Fund Manager
Disclaimers
The document is provided for information purposes only and does not constitute investment advice or any recommendation to buy, or sell or otherwise transact in any investments. The document is not intended to be construed as investment research. The contents of this document are based upon sources of information which Heptagon Capital LLP believes to be reliable. However, except to the extent required by applicable law or regulations, no guarantee, warranty or representation (express or implied) is given as to the accuracy or completeness of this document or its contents and, Heptagon Capital LLP, its affiliate companies and its members, officers, employees, agents and advisors do not accept any liability or responsibility in respect of the information or any views expressed herein. Opinions expressed whether in general or in both on the performance of individual investments and in a wider economic context represent the views of the contributor at the time of preparation. Where this document provides forward-looking statements which are based on relevant reports, current opinions, expectations and projections, actual results could differ materially from those anticipated in such statements. All opinions and estimates included in the document are subject to change without notice and Heptagon Capital LLP is under no obligation to update or revise information contained in the document. Furthermore, Heptagon Capital LLP disclaims any liability for any loss, damage, costs or expenses (including direct, indirect, special and consequential) howsoever arising which any person may suffer or incur as a result of viewing or utilising any information included in this document. 
The document is protected by copyright. The use of any trademarks and logos displayed in the document without Heptagon Capital LLP's prior written consent is strictly prohibited. Information in the document must not be published or redistributed without Heptagon Capital LLP's prior written consent. 
Heptagon Capital LLP, 63 Brook Street, Mayfair, London W1K 4HS
tel +44 20 7070 1800
email [email protected] 
Partnership No: OC307355 Registered in England and Wales Authorised & Regulated by the Financial Conduct Authority 
Heptagon Capital Limited is licenced to conduct investment services by the Malta Financial Services Authority.

GET THE UPDATES
Sign up to our monthly email newsletter for the latest fund updates, webcasts and insights.