Season 3, Post 25: Eat bugs!
When your author is not thinking about future trends, one of his hobbies is curating a restaurant Blog. A convenient alignment of the stars permitted for a visit to a restaurant in London that specialises in serving dishes that "explore the exotic." While the menu may not to be everyone's liking, in the interests of research, your author sampled a wide selection of critters. A starter of pan-fried chermoula crickets was followed by a meaty main accompanied by a salad comprising mealworms, silkworms, and locusts. There was a satisfying savoury crunch to the bugs; a taste sensation somewhere between tinned tuna, pork scratchings and smoked nuts. Dessert was chocolate-covered locusts (interested readers may find a full review here).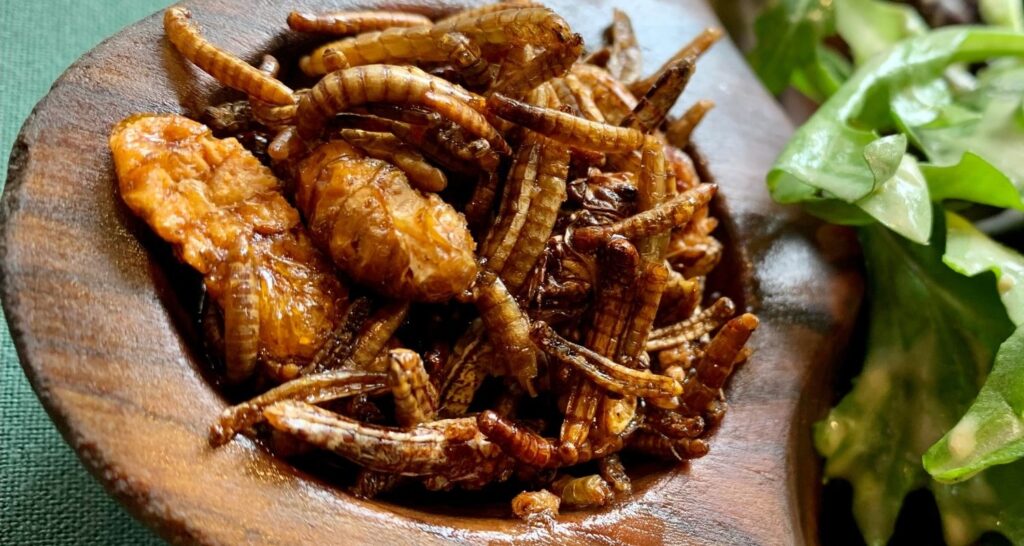 There was, however, a serious point to this endeavour. Over 9bn people will need feeding by 2050, implying a ~35% increase in global food demand relative to current levels (per the United Nations Food & Agriculture Office). At the same time, the earth's resources are increasingly stressed. Eating bugs represents an important solution to the problem. Consider that insects require just a fraction of the land, water and feed in comparison to traditional livestock, for the same amount of protein. They can also be farmed in virtually any climate or environment. Insects need just a third of the square metres of cultivable land required by a chicken and less than a tenth of that needed by a cow to produce the equivalent amount of protein. Meanwhile, for every kilo of insect protein produced, just 1g of greenhouse gas is emitted. The equivalent amount for chickens is 300 times this figure. For cows, it is over 2,800 times.
The benefits don't end here. Insects are good for you. They are rich in protein and other essential nutrients including animo acids, vitamin B, calcium, iron, potassium and zinc. Crickets, for example, contain over three times as much protein and five times the amount of calcium as any conventional animal protein. If crickets may not be your thing, then worry not; there are some 1900 species from which to choose. Over 2bn people worldwide are already enjoying insects as part of their diet; just anomalously few in the developed, western world (all data cited can be found here).   
Even if it may take some time for many readers of this piece to get their heads around eating insects, we should expect to see them at least featuring increasingly within the food that animals eat, given the above advantages. At the same time, the human market looks primed for further growth. Many exciting start-ups have sprung up across the world including Short Horn in the UK and Ynsect in France. Some consultants expectthe market for edible insects to reach $1.5bn by 2026, a greater than tenfold increase over 2019 levels. Next up for your author on this topic is a visit to an insect farm in west London in July, followed by a live cooking event. Watch this space…
23 June 2021​​​​​
The above does not constitute investment advice and is the sole opinion of the author at the time of publication. The author of this piece has no personal direct investment in the business. Past performance is no guide to future performance and the value of investments and income from them can fall as well as rise.
Alex Gunz, Fund Manager
Disclaimers
The document is provided for information purposes only and does not constitute investment advice or any recommendation to buy, or sell or otherwise transact in any investments. The document is not intended to be construed as investment research. The contents of this document are based upon sources of information which Heptagon Capital LLP believes to be reliable. However, except to the extent required by applicable law or regulations, no guarantee, warranty or representation (express or implied) is given as to the accuracy or completeness of this document or its contents and, Heptagon Capital LLP, its affiliate companies and its members, officers, employees, agents and advisors do not accept any liability or responsibility in respect of the information or any views expressed herein. Opinions expressed whether in general or in both on the performance of individual investments and in a wider economic context represent the views of the contributor at the time of preparation. Where this document provides forward-looking statements which are based on relevant reports, current opinions, expectations and projections, actual results could differ materially from those anticipated in such statements. All opinions and estimates included in the document are subject to change without notice and Heptagon Capital LLP is under no obligation to update or revise information contained in the document. Furthermore, Heptagon Capital LLP disclaims any liability for any loss, damage, costs or expenses (including direct, indirect, special and consequential) howsoever arising which any person may suffer or incur as a result of viewing or utilising any information included in this document. 
The document is protected by copyright. The use of any trademarks and logos displayed in the document without Heptagon Capital LLP's prior written consent is strictly prohibited. Information in the document must not be published or redistributed without Heptagon Capital LLP's prior written consent. 
Heptagon Capital LLP, 63 Brook Street, Mayfair, London W1K 4HS
tel +44 20 7070 1800
email [email protected] 
Partnership No: OC307355 Registered in England and Wales Authorised & Regulated by the Financial Conduct Authority 
Heptagon Capital Limited is licenced to conduct investment services by the Malta Financial Services Authority.

GET THE UPDATES
Sign up to our monthly email newsletter for the latest fund updates, webcasts and insights.