Season 3, Post 37: Premium pets and the marvels of medtech
Your author has spent the past two days in the Midlands of England doing something he has not for 18 months: attending real world conferences. Monday was marked by a visit to PATS, the UK's national pet industry exhibition. Tuesday took in the Medtech Expo, the UK's leading event for medical device technology. The mood at both events was buoyant, with most exhibitors and visitors seemingly delighted that normality (or a form of) had returned to their industries. In the interests of brevity, this week's Blog will incorporate our learnings about the pet economy while our medtech insights will follow next week.
PATS, billed as the biggest pet exhibition yet in the UK, encompassed over 200 exhibitors with everything from grooming stations to product demonstrations on display. There were also a range of seminars with topics spanning software solutions for enhancing sales engagement to rabbit welfare (your author attended the former but not the latter). The fact that there were 67 companies marketing pet treats and 34 displaying pet toys, but just 19 offering medicare services (all figures courtesy of the event programme) is highly indicative of where the current buzz lies in the pet industry.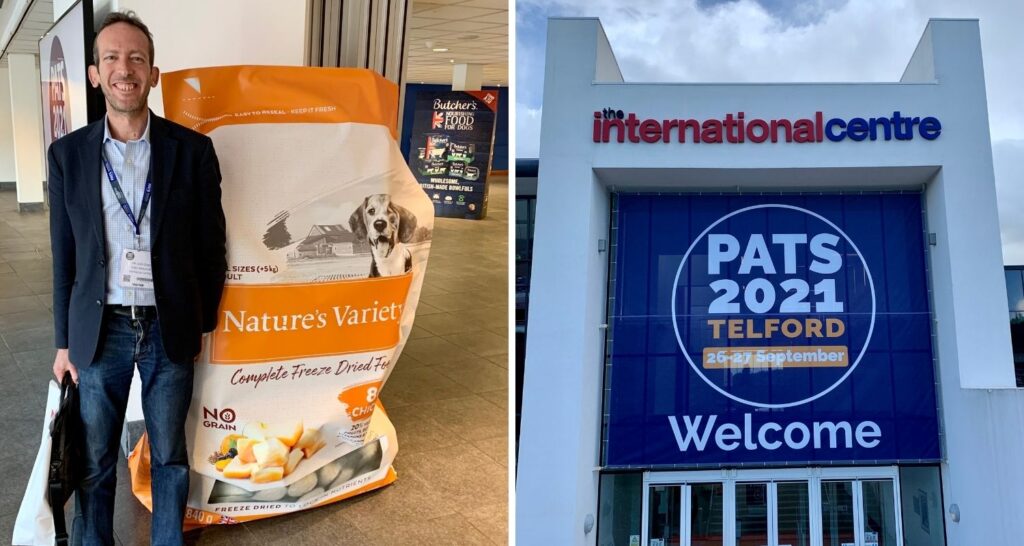 As one exhibitor put it, "we're humanising our pets more and more," although this was followed by the qualifier that the trend was often more about the owner than the animal. Regardless, the corollary of this development is that the increasing number of newly-created product categories implies a greater scope for premiumisation. Interestingly, much of this move seems to be driven by (often childless) Millennials, who have now become the largest pet-owning cohort in the country. Some 40% of these pet owners state they would spend as much on their animals at Christmas or for their birthdays than they would on humans (all data per Pet Product Marketing, an industry publication). Beyond frivolities (anyone for 'Pawfume' – a designer fragrance for dogs?), sustainability is also becoming a theme of growing importance. This is playing out, for example, via food products with clear provenance and clean labels or waste bags that biodegrade in less than a year.
Tech, of course, did feature in many discussions at PATS. The pet industry is undoubtedly digitalising as well as premiumising. The recent decision of Pets At Home (a major listed retailer in the space) to hire 45 data scientists to work with the data of its 6.2m customers is highly indicative of the industry's direction of travel. Viewed from another perspective, customer demand for tech solutions (particularly GPS trackers, but also smart collars, self-cleaning litter trays and more) seems only to be increasing. By 2027, the UK pet-tech market could be worth over £14bn (per Global News Wire). Have no doubt, we see a 'long tail' of opportunity within the pet sector, not just in the UK, but globally.
29 September 2021
The above does not constitute investment advice and is the sole opinion of the author at the time of publication. The author of this piece has no personal direct investment in the business. Past performance is no guide to future performance and the value of investments and income from them can fall as well as rise.
​​​​​​​​​​​​​​​​​​​​​
Photos taken by the author.
Alex Gunz, Fund Manager
Disclaimers
The document is provided for information purposes only and does not constitute investment advice or any recommendation to buy, or sell or otherwise transact in any investments. The document is not intended to be construed as investment research. The contents of this document are based upon sources of information which Heptagon Capital LLP believes to be reliable. However, except to the extent required by applicable law or regulations, no guarantee, warranty or representation (express or implied) is given as to the accuracy or completeness of this document or its contents and, Heptagon Capital LLP, its affiliate companies and its members, officers, employees, agents and advisors do not accept any liability or responsibility in respect of the information or any views expressed herein. Opinions expressed whether in general or in both on the performance of individual investments and in a wider economic context represent the views of the contributor at the time of preparation. Where this document provides forward-looking statements which are based on relevant reports, current opinions, expectations and projections, actual results could differ materially from those anticipated in such statements. All opinions and estimates included in the document are subject to change without notice and Heptagon Capital LLP is under no obligation to update or revise information contained in the document. Furthermore, Heptagon Capital LLP disclaims any liability for any loss, damage, costs or expenses (including direct, indirect, special and consequential) howsoever arising which any person may suffer or incur as a result of viewing or utilising any information included in this document. 
The document is protected by copyright. The use of any trademarks and logos displayed in the document without Heptagon Capital LLP's prior written consent is strictly prohibited. Information in the document must not be published or redistributed without Heptagon Capital LLP's prior written consent. 
Heptagon Capital LLP, 63 Brook Street, Mayfair, London W1K 4HS
tel +44 20 7070 1800
email [email protected] 
Partnership No: OC307355 Registered in England and Wales Authorised & Regulated by the Financial Conduct Authority 
Heptagon Capital Limited is licenced to conduct investment services by the Malta Financial Services Authority.

GET THE UPDATES
Sign up to our monthly email newsletter for the latest fund updates, webcasts and insights.