Season 4, Post 18: Shop the future
Despite its venerable age of 113, Selfridges remains one of London's destination department stores. Part of the reason it has stayed relevant is that it continues to reinvent itself. At present, the windows of Selfridges are decorated with displays centred around the theme of "Superfutures, Tomorrow in the Making." Apart from being eye-catching (and to draw in curious shoppers), the thinking behind the initiative is to explore the future of retail.
Contained within Selfridges currently is SUPERMARKET. The retailer describes it as "an experimental concept store." In the interests of research and being located just minutes from where your author works, he decided to pay it a visit. The main event, which dominates the room, is a robot, which can 3D-print any item a customer might want (within reason), from shoes through to recycled plastic furniture – if you're prepared to wait and pay up. There's also the chance to sample plant-based food products (courtesy of Redefine Meat), although sadly none was available when we visited. If this were not enough, why not try a fragrance made just from carbon dioxide?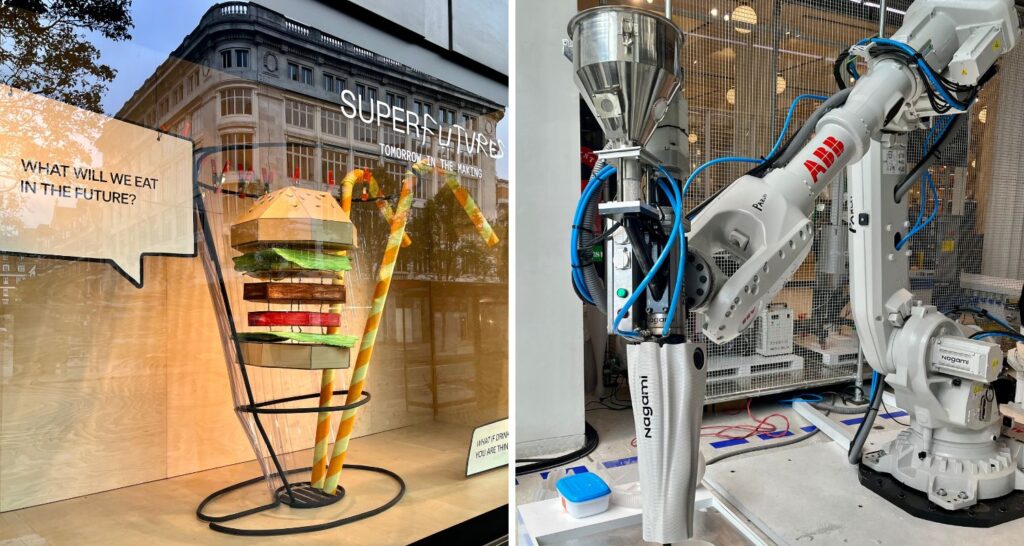 Beyond the novelty and gimmickry, there is a serious point to the initiatives being undertaken by Selfridges. Recent global events have brought to the fore the issue of food security, even if we have argued for some time that we need to think about novel food solutions to reduce supply-demand imbalances. Forget about meat aisles in future supermarkets; instead, these will be replaced by a 'protein aisle', where plant- (and insect) based substitutes will be more prevalent. We have also written previously about the importance of reducing plastic waste. Recycling plastic is a step in the right direction.
Selfridges is also exploring novel ownership concepts. These include alternative jewellery pricing models and the launch of exclusive NFT digital artworks. While we have no views on the former, the broader trend of decentralising finance via solutions such as non-fungible tokens (NFTs) is only likely to grow. Total NFT sales reached $17.7bn in 2021, up over 200 times relative to 2020's figure. Our next more detailed theme – out shortly – will address this topic in more detail. The future of retail will almost certainly be one of less cash and more digital payment solutions. It will also hopefully be one that is more sustainable.    
5 May 2022​​​​​​​​​​​​​​​​​​​​​​​​​​​​​​​​​
The above does not constitute investment advice and is the sole opinion of the author at the time of publication. Past performance is no guide to future performance and the value of investments and income from them can fall as well as rise.
Alex Gunz, Fund Manager
Photos taken by author.
​​​​​​​​​​​​​​​​​​​​​​​​​​​​​​​​​​​​​​​​​​​​​​​​​​​​​​​
Disclaimers
The document is provided for information purposes only and does not constitute investment advice or any recommendation to buy, or sell or otherwise transact in any investments. The document is not intended to be construed as investment research. The contents of this document are based upon sources of information which Heptagon Capital LLP believes to be reliable. However, except to the extent required by applicable law or regulations, no guarantee, warranty or representation (express or implied) is given as to the accuracy or completeness of this document or its contents and, Heptagon Capital LLP, its affiliate companies and its members, officers, employees, agents and advisors do not accept any liability or responsibility in respect of the information or any views expressed herein. Opinions expressed whether in general or in both on the performance of individual investments and in a wider economic context represent the views of the contributor at the time of preparation. Where this document provides forward-looking statements which are based on relevant reports, current opinions, expectations and projections, actual results could differ materially from those anticipated in such statements. All opinions and estimates included in the document are subject to change without notice and Heptagon Capital LLP is under no obligation to update or revise information contained in the document. Furthermore, Heptagon Capital LLP disclaims any liability for any loss, damage, costs or expenses (including direct, indirect, special and consequential) howsoever arising which any person may suffer or incur as a result of viewing or utilising any information included in this document. 
The document is protected by copyright. The use of any trademarks and logos displayed in the document without Heptagon Capital LLP's prior written consent is strictly prohibited. Information in the document must not be published or redistributed without Heptagon Capital LLP's prior written consent. 
Heptagon Capital LLP, 63 Brook Street, Mayfair, London W1K 4HS
tel +44 20 7070 1800
email [email protected] 
Partnership No: OC307355 Registered in England and Wales Authorised & Regulated by the Financial Conduct Authority 
Heptagon Capital Limited is licenced to conduct investment services by the Malta Financial Services Authority.

GET THE UPDATES
Sign up to our monthly email newsletter for the latest fund updates, webcasts and insights.