Season 4, Post 26: The perfect pack
How do you make sure that the world receives safer food but that it also reduces the amount of carbon and plastic produced? One solution is to design the 'perfect pack.' We spent the best part of a recent day with SIG Combibloc, the world's second largest producer of aseptic carton packaging to hear about their vision approaching this challenge.
Aseptic packaging is a great way of distributing and preserving food, particularly in emerging economies without cool chain infrastructure. Liquid dairy and non-carbonated soft drinks in this format can both enjoy a shelf life of up to 12 months without refrigeration. Current cartons, however, suffer from what was described to us as the 'aluminium dilemma.' Most packs contain an ultra-thin aluminium barrier which performs a crucial role in keeping products safe. While this accounts for less than 5% of the pack's weight (the majority is carton paperboard), it is responsible for c50% of the pack's carbon footprint. Reformulate this part of the pack and you're on the way to solving the aluminium dilemma.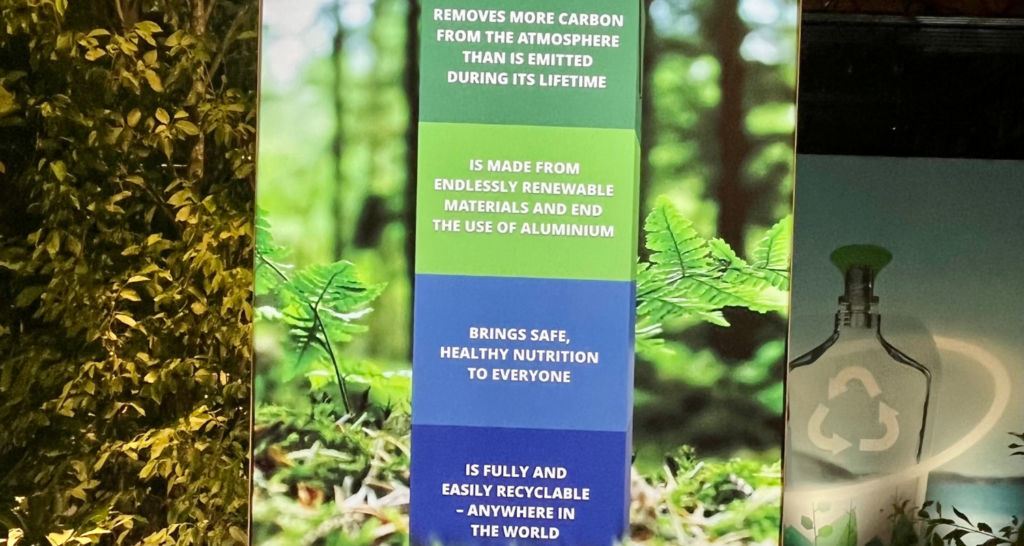 SIG has a history of innovation in sustainable packaging. It introduced its first-generation with a novel solution over a decade ago, achieving a world first, in a pack without any aluminium foil. The business is currently innovating through revising its carton filling technology and by introducing new alternative, aluminium-free barrier materials. When asked what the perfect pack might look like, SIG outlined to us its vision. Such a pack would remove more carbon from the atmosphere than is emitted during its lifetime and would be made from endlessly renewable materials (primarily paper). Additionally, it should be easily recyclable anywhere in the world. Such cartons may be available before the middle of this decade.
The journey, of course, does not end there. One sobering statistic we took away from our meeting was that 99% of new food and beverage product launches globally in the last 12 months came in multi-material solutions. Going to fewer (or mono) materials will therefore take time, even if each step in that direction will help shrink the world's carbon footprint.
28 June 2022​​​​​​​​
The above does not constitute investment advice and is the sole opinion of the author at the time of publication. Heptagon Capital is an investor in SIG Combibloc.The author of this piece has no personal direct investment in the business. Past performance is no guide to future performance and the value of investments and income from them can fall as well as rise. ​​​​​​​​​​​​​​​​​​​​​​​​​​​​​​​​​​​​​​​​​​​​​​​​​​​​​​​
 ​​​​​​​​​​​​​​​​​​​​​​​​​​​​​​​​​​​​​​​​​​​​​​​​​​​​​​​
Photos taken by author. 

Alex Gunz, Fund Manager
Disclaimers
The document is provided for information purposes only and does not constitute investment advice or any recommendation to buy, or sell or otherwise transact in any investments. The document is not intended to be construed as investment research. The contents of this document are based upon sources of information which Heptagon Capital LLP believes to be reliable. However, except to the extent required by applicable law or regulations, no guarantee, warranty or representation (express or implied) is given as to the accuracy or completeness of this document or its contents and, Heptagon Capital LLP, its affiliate companies and its members, officers, employees, agents and advisors do not accept any liability or responsibility in respect of the information or any views expressed herein. Opinions expressed whether in general or in both on the performance of individual investments and in a wider economic context represent the views of the contributor at the time of preparation. Where this document provides forward-looking statements which are based on relevant reports, current opinions, expectations and projections, actual results could differ materially from those anticipated in such statements. All opinions and estimates included in the document are subject to change without notice and Heptagon Capital LLP is under no obligation to update or revise information contained in the document. Furthermore, Heptagon Capital LLP disclaims any liability for any loss, damage, costs or expenses (including direct, indirect, special and consequential) howsoever arising which any person may suffer or incur as a result of viewing or utilising any information included in this document. 
The document is protected by copyright. The use of any trademarks and logos displayed in the document without Heptagon Capital LLP's prior written consent is strictly prohibited. Information in the document must not be published or redistributed without Heptagon Capital LLP's prior written consent. 
Heptagon Capital LLP, 63 Brook Street, Mayfair, London W1K 4HS
tel +44 20 7070 1800
email [email protected] 
Partnership No: OC307355 Registered in England and Wales Authorised & Regulated by the Financial Conduct Authority 
Heptagon Capital Limited is licenced to conduct investment services by the Malta Financial Services Authority.

GET THE UPDATES
Sign up to our monthly email newsletter for the latest fund updates, webcasts and insights.