Season 5, Post 30: Remember the metaverse?
Wind the clock back two years and everyone was talking about the metaverse. Such was the hype that Mark Zuckerberg even chose to rebrand Facebook to Meta in October 2021, a decision he may have subsequently rued. Of course, all the buzz in the tech world has now shifted to AI.
Nonetheless, the metaverse concept is still alive and kicking. Many people continue, for example, to use Roblox as a medium not only for playing games but also for interacting with friends in virtual worlds – even if shares in the business have fallen more than 70% from their peak. More interestingly, your author encountered the term 'industrial metaverse' for the first time last week when on a business trip to Germany.
Metaverse has always been a nebulous concept at best. However, its relevance was framed to us in the following context. Consider that 80% of the global workforce do deskless jobs, implying 2.7bn de facto 'frontline' employees. Then take the increasing complexity of many roles (say, operating or maintaining machinery) combined with a scarcity of skilled workers, and the obvious conclusion should be that there is a higher need for efficiency. Think then of the concept of industrial metaverse as being a synonym for a holistic digitalisation of the shop floor embracing both machines and humans.
This proposition was put to us by TeamViewer, a ~€3bn business based close to Stuttgart. Readers may be familiar with the company since it sponsors both Manchester United and the Mercedes F1 team. Their IT department at work may also use some of the company's products. TeamViewer's Frontline product marries hardware and software to allow workers access to hands-free information and to view data in real-time, resulting in fewer task errors and higher performance. Use cases could include within logistics, manufacturing, maintenance, training and field service.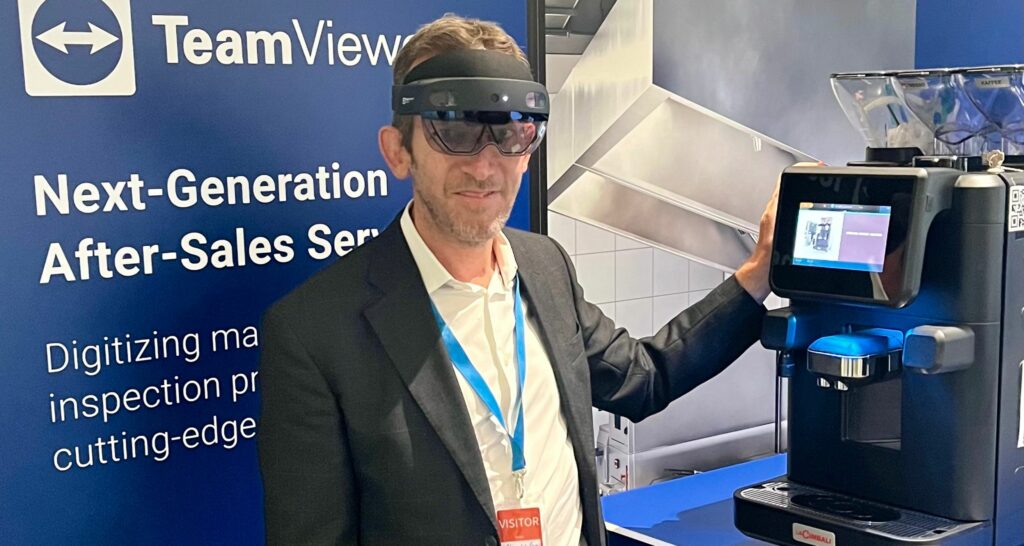 Your author even got a chance see how the technology works. Sporting a pair of Microsoft Hololens augmented reality goggles, I was able to notionally repair a coffee machine without the need to call out an engineer. TeamViewer's proprietary software allows the user (i.e., me) to see on their augmented reality goggles exactly what a remote technician would be seeing on a computer screen – in this case, the inside of a coffee machine. Within the interface of the goggles, prompt boxes come up, guiding the user how to repair it. The hardware was better than recalled – lighter to wear with almost no sense of motion sickness – and the software highly intuitive. TeamViewer cited real world case studies where blue-chip companies had achieved markedly higher picking speeds (in warehouses) or faster onboarding times of new employees using the Frontline product. While still early days, the metaverse may finally be getting a second life.
8 August 2023
The above does not constitute investment advice and is the sole opinion of the author at the time of publication. Heptagon Capital is an investor in TeamViewer. The author of this piece has no personal direct investment in the business. Past performance is no guide to future performance and the value of investments and income from them can fall as well as rise.
Click here to view all Blog posts.
Alex Gunz, Fund Manager
Disclaimers
The document is provided for information purposes only and does not constitute investment advice or any recommendation to buy, or sell or otherwise transact in any investments. The document is not intended to be construed as investment research. The contents of this document are based upon sources of information which Heptagon Capital LLP believes to be reliable. However, except to the extent required by applicable law or regulations, no guarantee, warranty or representation (express or implied) is given as to the accuracy or completeness of this document or its contents and, Heptagon Capital LLP, its affiliate companies and its members, officers, employees, agents and advisors do not accept any liability or responsibility in respect of the information or any views expressed herein. Opinions expressed whether in general or in both on the performance of individual investments and in a wider economic context represent the views of the contributor at the time of preparation. Where this document provides forward-looking statements which are based on relevant reports, current opinions, expectations and projections, actual results could differ materially from those anticipated in such statements. All opinions and estimates included in the document are subject to change without notice and Heptagon Capital LLP is under no obligation to update or revise information contained in the document. Furthermore, Heptagon Capital LLP disclaims any liability for any loss, damage, costs or expenses (including direct, indirect, special and consequential) howsoever arising which any person may suffer or incur as a result of viewing or utilising any information included in this document. 
The document is protected by copyright. The use of any trademarks and logos displayed in the document without Heptagon Capital LLP's prior written consent is strictly prohibited. Information in the document must not be published or redistributed without Heptagon Capital LLP's prior written consent. 
Heptagon Capital LLP, 63 Brook Street, Mayfair, London W1K 4HS
tel +44 20 7070 1800
email [email protected] 
Partnership No: OC307355 Registered in England and Wales Authorised & Regulated by the Financial Conduct Authority 
Heptagon Capital Limited is licenced to conduct investment services by the Malta Financial Services Authority.

GET THE UPDATES
Sign up to our monthly email newsletter for the latest fund updates, webcasts and insights.