Season 5, Post 9: Data dreams and AI aspirations
Both the above were amply on display at Tech Show London, billed as "the most important technology trade fair in the UK." Over 10,000 exhibitors, visitors, sponsors and speakers including your author descended on London's ExCel centre for the event, spread over the last two days. 2023's edition felt markedly busier than last year's (which we also attended). Of the five sections into which the show was divided, without doubt, the most popular was "Data and AI World." At many of the keynote speeches, it was standing room only, with some would-be attendees even being turned away.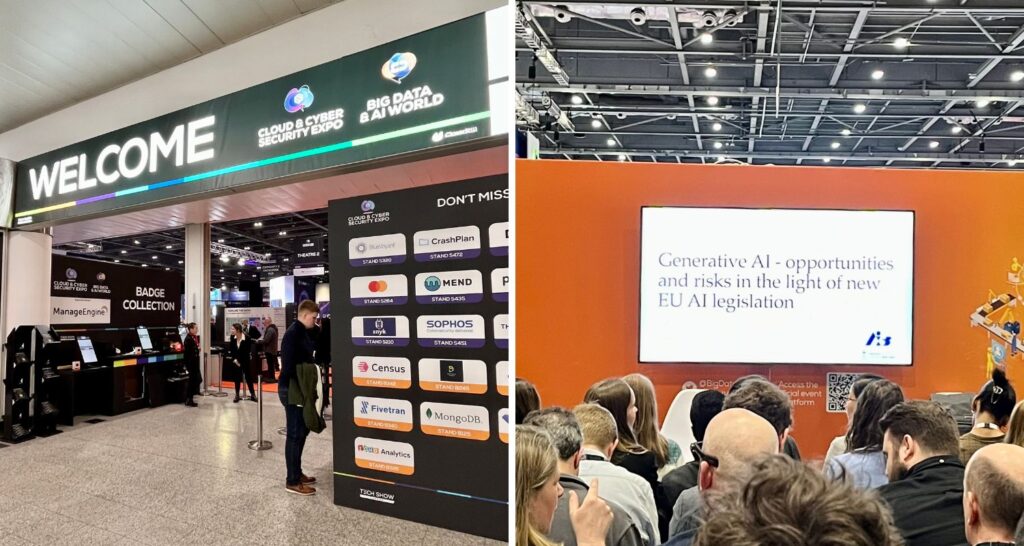 Keynote speeches from representatives of Adidas, BT, the Cabinet Office, IBM, NATO and Shell (to name but a few) on the topics of data and AI speak to how these subjects are front of mind for organisations across all industries and spanning both the public and private sector. Elsewhere, Microsoft had a markedly visible presence at the event, while Google seemed almost conspicuous by its absence. The woes of Silicon Valley seem far removed from London, with almost every person we spoke to at the event highlighting that their organisation was currently in hiring mode. There is clearly a shortage of trained (UK-based) AI experts. One likened the current buzz in the space to being like a "gold rush." Ancillary businesses such as consultants and law firms also seem clearly to be benefiting.
Despite these avowed AI aspirations, some sought to moderate this message by highlighting that the industry is still very immature. Improvements in training models are occurring "almost by the day" according to one person with whom we spoke. Development will necessarily be non-linear. This is consistent with the views set out in our recent thematic piece on AI. Another important observation made by several exhibitors is that AI developments will occur irrespective of pending legislation. Many thought that regulation might not even be able to keep up with the current pace of AI innovation. We also heard the argument that since AI was "democratising" (i.e., providing better access to information) that regulators would perhaps take a relatively benign stance. We are not so sure and worry about many of the technology's unintended consequences, particularly regarding the potential propagation of misinformation.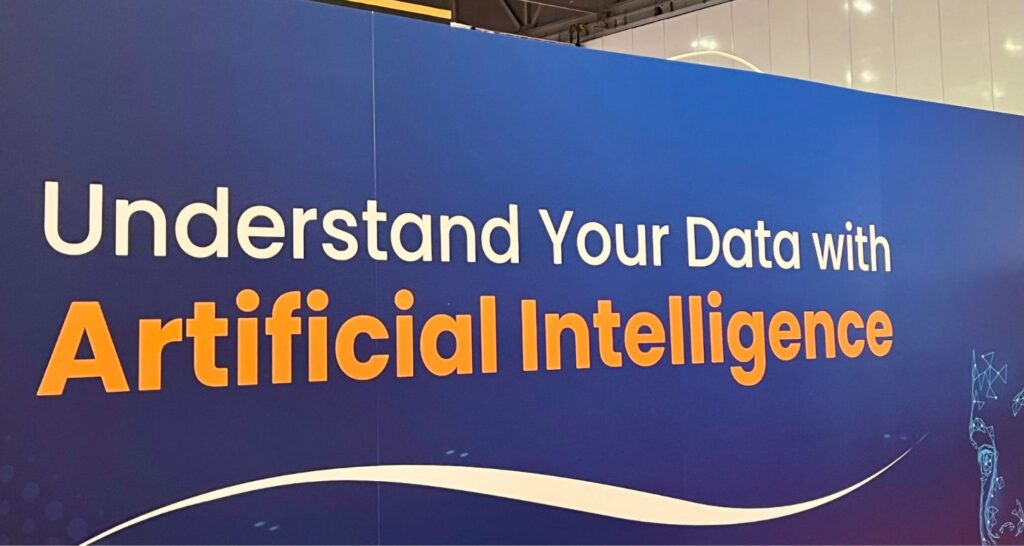 One topic on which we have much greater confidence, as evidenced by conversations we had at the Tech Show, was that the whole tech ecosystem should benefit from AI. Put another way, for artificial intelligence solutions to deployed widely and successfully, there is a need for proper infrastructure. AI should help accelerate cloud migration trends, also benefiting data storage businesses. In this latter space, another recurring theme from the event was how almost all storage businesses are now promoting the sustainable credentials of their data centres, particularly in terms of using renewable energy sources to power them. 
9 March 2023
​​​​​​​​​​​​​​​​​​​​​​​​​​​​​​​​​​​​​​​​​​​​​​​​​​​​​​​​​​​​​​​​​​​​​​​​​​​​​​​​​​​​​​​​​​​​​​​​​​​​​​​​​​​
​​​​​​​​​​​​​​​​​​​​​​​​​​​The above does not constitute investment advice and is the sole opinion of the author at the time of publication. Past performance is no guide to future performance and the value of investments and income from them can fall as well as rise.
​​​​​​​​​​​​​​​​​​​​​​​​​​​​​​​​​​​​​​​​​​​​​​​​​​​​​​​​​​​​​​​​​​​​​​​​​​​​​​​​​​​​​​​​​​​​​​​​​​​​​​​​​​​​​​​​​​​​​​​​​​​​​​​​​​​​​​​​​​​​​​​​​​​​​​​​​​​​​​​​​​​​​​​​​​​​​​​​​​​​​​​​​​​​​​​​​​​​​​​​​​​​​​​​​​​​​​​​​​​​​​​​​​​​​​​​​​​​​​​​​​​​​​​​​​​​​​​​​​​​​​​​​​​​​​​​​​​​​​​​​​​​​​​​​​​​​​​​​​​​​​​​​​​​​​​​​​​​​​​​​​​​​​​​​​​​​​​​​​​​​Click here to view all Blog posts.

Photos taken by the author​​​​​​​.

​​​​​​​Alex Gunz, Fund Manager ​​​​​​​​​​​​​​​​​​​​​​​​​​​​​​​​​​​​​​​​​​​​​​​​​​​​​​​​​​​​​​​​​​​​​​​​​​​​​​​​​​​​​​​​​​
Disclaimers
The document is provided for information purposes only and does not constitute investment advice or any recommendation to buy, or sell or otherwise transact in any investments. The document is not intended to be construed as investment research. The contents of this document are based upon sources of information which Heptagon Capital LLP believes to be reliable. However, except to the extent required by applicable law or regulations, no guarantee, warranty or representation (express or implied) is given as to the accuracy or completeness of this document or its contents and, Heptagon Capital LLP, its affiliate companies and its members, officers, employees, agents and advisors do not accept any liability or responsibility in respect of the information or any views expressed herein. Opinions expressed whether in general or in both on the performance of individual investments and in a wider economic context represent the views of the contributor at the time of preparation. Where this document provides forward-looking statements which are based on relevant reports, current opinions, expectations and projections, actual results could differ materially from those anticipated in such statements. All opinions and estimates included in the document are subject to change without notice and Heptagon Capital LLP is under no obligation to update or revise information contained in the document. Furthermore, Heptagon Capital LLP disclaims any liability for any loss, damage, costs or expenses (including direct, indirect, special and consequential) howsoever arising which any person may suffer or incur as a result of viewing or utilising any information included in this document. 
The document is protected by copyright. The use of any trademarks and logos displayed in the document without Heptagon Capital LLP's prior written consent is strictly prohibited. Information in the document must not be published or redistributed without Heptagon Capital LLP's prior written consent. 
Heptagon Capital LLP, 63 Brook Street, Mayfair, London W1K 4HS
tel +44 20 7070 1800
email [email protected] 
Partnership No: OC307355 Registered in England and Wales Authorised & Regulated by the Financial Conduct Authority 
Heptagon Capital Limited is licenced to conduct investment services by the Malta Financial Services Authority.

GET THE UPDATES
Sign up to our monthly email newsletter for the latest fund updates, webcasts and insights.